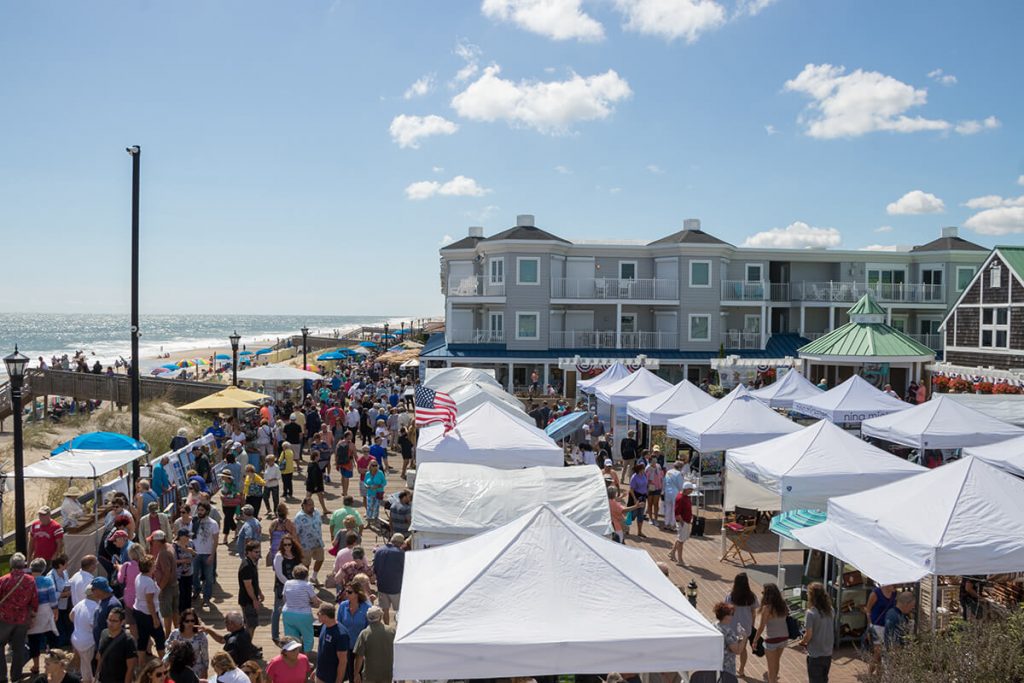 The 45th Annual Arts Festival in downtown Bethany Beach was held on September 9, 2023, from 10 am – 5 pm. This nationally ranked event includes over 100 juried artists featuring paintings, woodwork, metal, clay, jewelry, and more.
In the event that inclement weather is forecasted that poses a threat to public safety, the festival has a rain date scheduled on Sunday, September 10, 2023. All announcements regarding the show date will be made on this website.
Event Parking:
Click here to learn more about public parking in Bethany Beach. Additional overflow parking will be available at St. Ann's Parish located at 691 Garfield Parkway, Bethany Beach from 10 AM-2 PM only. Jolly Trolley, sponsored by Renewal by Andersen, will be providing shuttle service between St. Ann's and the shuttle stop on the 200th block of Garfield Parkway (by the playground) in downtown Bethany Beach from 10 AM-2 PM.
Wine Tasting – Saturday, September 9 from 2:00 PM – 5:00 PM
Sponsored by Beach Liquors, Harvest Tide Steakhouse will be hosting the Bethany Beach Arts Festival Wine Tasting right in the heart of the Arts Festival happenings on Saturday, September 9th, from 2 PM – 5 PM.
Online ticket sales are now closed. Tickets will be available to purchase during the festival at the Harvest Tide Steakhouse and the Garfield Parkway Info Booth!
This ticketed event will feature 12 tastings of over 60 wines and light fare. A portion of the proceeds will benefit local elementary and middle school art programs!
Ticket Cost: $30
Ticket Includes:
– Light fare
– Tastings from a variety of over 60 different wines

*A portion of the proceeds from the Wine Tasting will benefit local elementary and middle school art programs.*
*Must be 21 or older to participate.
---
Meet the Artists At Gallery One Reception 
(This event is Free to attend – RSVP Required)
GALLERY ONE LOCATED AT 32 ATLANTIC AVE, OVEAN VIEW, DE 19970
For this commemorative year, on the eve of the Arts Festival, enjoy an intimate setting of wine, light fare, and a chance to mingle with Gallery One partners. Sponsored by Comcast Business, reserve your spot today! The Meet the Artists Reception is an RSVP-only event. wait-list options will be available. Each attendee will qualify to win a beautiful painting by the talented Mary Bode Byrd.

GALLERY ONE PARTNERS: 
Cindy Beyer, Mary Bode Byrd, W. Scott Broadfoot, Joyce Condry, Ray Ewing, Jill Glassman, Laura Hickman, Michelle Marshall, Lesley McCaskill, Jeanne Mueller, Eileen Olson, Marybeth Paterson, Dale Sheldon, Rina Thaler, & Cheryl Wisbrock
To learn more about the Gallery One Partners, go to
galleryonede.com
. It has information on all the artists!
---
Silent Auction
The annual event sponsored by Jayne's Reliable serves as a fundraiser for the arts programs at five local schools. The silent auction is comprised of pieces donated by participating artists, and is hosted on the Bethany Beach Bandstand from 10 am – 2 pm. The schools which benefit from the silent auction are Lord Baltimore Elementary School, Southern Delaware School of the Arts, John M. Clayton Elementary School, Phillip C. Showell Elementary School and Selbyville Middle School.
---
Beach Mural
Sponsored by the Delaware Botanic Gardens, and to commemorate the festival's 45th year, there will be a beach mural created right off the the boardwalk for festival and beach goers alike! The grand reveal will be at an hour before the festival starts at 9 am.
---
Children's Corner
The day will include a Children's Area, by the Freeman Arts Pavilion's Art Access Initiative.  Patrons are invited to stop by the children's craft area near the basketball courts at the Christian Conference Center and Town of Bethany Beach's playground to be a part of the art. 
---
Live Demo By Ocean City Center for the Arts
Stop by Hollywood Street for live art demos from 10:00 am to 1:00 pm!
---
Accommodations:
Bethany Beach Ocean Suites:
Just steps from the water and a world away from the business of life, you'll discover Bethany Beach Ocean Suites Residence Inn. Located in the heart of the Bethany Beach Boardwalk, our fully renovated oceanfront hotel surrounds you with the excitement of sun, sand, sea and sophisticated style.
---
Hotel Bethany Beach: 
Just blocks from the ocean, your ideal family destination awaits. Offering a central locale, comfortable accommodations, and a sparkling outdoor pool.
Fenwick Shores: 
Explore the best of Fenwick Island. We're in the heart of Fenwick Island, two miles from Fenwick Island State Park and about 5 miles from Bethany Beach. Enjoy our heated outdoor pool, 24-hour fitness center, and two restaurants.  
---
Volunteer
This event would not be possible without the help of our many wonderful volunteers each year! Volunteer positions will be available throughout the day to assist with parking, artist check-in, information booths, silent auction, and clean-up. This year's volunteer sponsor is Heather's Home Works.
 CLICK HERE TO SEE VOLUNTEER OPPORTUNITIES. 
---
Event Map for Participating Artists:
 CLICK HERE TO SEE EVENT MAP FOR ARTISTS. 
---
Rain Date and Weather
In the event that inclement weather is forecasted and poses a threat to public safety, the festival has a rain date. All announcements regarding the show date will be made on this website.